The kitchen is very much the heart of the home, but whilst we tend to spend more time making our lounges and other rooms look stunning, the kitchen doesn't always get the same attention. That can be changed with a few simple alterations, taking it from the old and turning it into a new, cool space that you'll want to spend more time in. Here are some top restyle tips to lift your kitchen décor.
Fresh colour:
One of the best ways to alter the look and feel of any room is with a change of colour, and the kitchen is no different. We're talking about small changes here, so consider your existing worktop, cabinets and other fittings that can't be painted, to make sure your new colour will compliment them. Go with shades that match well for the bulk of your walls but don't be afraid to add small splashes of colour too. This could be on feature kitchen stools, accessories or even appliances.

New shelving:
If you've got the space to add a floating shelf or two it can really lift a kitchen and bring it in line with modern trends. This type of shelving is not only practical, it also gives you a chance to show off some cool pieces like statement vases and stunning candles, copper pans and pretty plants. Hooks are another great way of adding storage and changing the look of your kitchen too, perfect for hanging those stylish pots and funky kitchen utensils.

Change the lighting:
Lighting is one of the main characteristics of any room, and can completely change the ambience. Individual lights can work really well as you can set the tone in all areas of your kitchen, rather than just flood it with overhead light. If you prefer to illuminate your whole kitchen at one time but still want to change the feel, simple alterations like the power of your bulbs or use of covers will do the trick.
A simple reshuffle of lamps, a strategic wall light and some inexpensive under cabinet lighting can also alter the mood with very little effort. Think about where you need light to prepare and cook meals, and make sure you've got that covered before moving on to additional lighting.
Declutter and tidy:
You want your new kitchen style to sparkle, and tidying regularly is going to help do just that. Whether it's keeping plenty of space on your worktops, rearranging your cabinets so that you can fit more in, or keeping your appliances clean, these are all going to vastly improve the room's overall look. Regular wiping down of surfaces and hobs is a big part of it too, no one likes a grimy surface. Don't forget about your cooker! Knowing how to clean a gas stove can really help. In fact, knowing how to clean a gas stove and other kitchen appliances properly not only lifts the look of your kitchen, it also saves time and effort in the long run.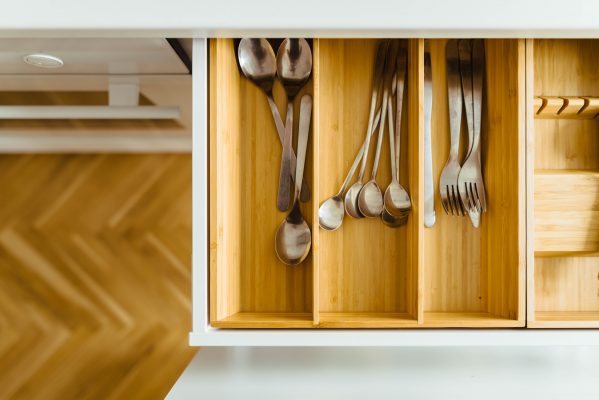 So there you have it, a handful of simple tips for you to improve the décor and look of your kitchen. Enjoy the restyle!